The Sangate Warszawa–Lotnisko Hotel*** is the perfect place for your conference. Thanks to years of experience, combined with state-of-the-art technical solutions, we have enjoyed years of unwavering popularity among organisers of the largest business, cultural and sports meetings.
The great location, inexpensive accommodations and the trust our guests put in us allow us to offer the highest quality of hotel services for the business industry.
We offer our guests a choice of 15 conference halls, named after precious stones. Altogether, we can host as many as 5,000 people in them. In addition, we offer seven business rooms located on levels II and III, perfect for small meetings or workshops.
Each conference room is air-conditioned, which means that not even the hottest temperatures will bother meeting participants. In addition, all the rooms have moveable sound-proof panels and state-of-the-art technical equipment. The rooms can be darkened, which will certainly come in handy when displaying presentations. Additionally, the spaces feature a sound system, wireless microphone, a flipchart stand, a project and screen. Guests can also use a video and photo camera, as well as a printer.
Conferences are not the only thing the Sangate Hotel organises. Warsaw is the place where many cultures intersect; therefore, we will gladly take up any challenge – from supporting intimate events to organisationally complex congresses, fairs, sports tournaments and even banquets for up to 1,000 people.
LEVEL "-1''
| | | | | | | | | | |
| --- | --- | --- | --- | --- | --- | --- | --- | --- | --- |
| Room name | area m2 | height m | dimensions length x width | | | | | | |
| Agat | 135 | 3,6 | 15,6x8,5 | 100 | 52 | 36 | 60 | 70 | 80 |
| Jantar | 135 | 3,6 | 15,6x8,5 | 100 | 52 | 36 | 60 | 70 | 80 |
| Ametyst | 185 | 3,6 | 15,6x12,1 | 160 | 70 | 50 | 120 | 90 | 100 |
| Diament | 185 | 3,6 | 15,6x12,1 | 160 | 70 | 50 | 120 | 90 | 100 |
| Topaz | 185 | 3,6 | 15,6x12,1 | 160 | 70 | 50 | 120 | 90 | 100 |
| Rubin | 185 | 3,6 | 15,6x12,1 | 160 | 70 | 50 | 120 | 90 | 100 |
| Cyrkonia | 405 | 3,6 | 14,1x28,6 | 180 | 180 | 86 | 288 | 200 | 250 |
| Poziom ,,-1'' z Cyrkonią | 1425 | 3,6 | | 1600 | 650 | 400 | 900 | 720 | 850 |
| Poziom ,,-1'' bez Cyrkonii | 1020 | 3,6 | 36x36,5 | 1300 | 470 | 315 | 615 | 520 | 600 |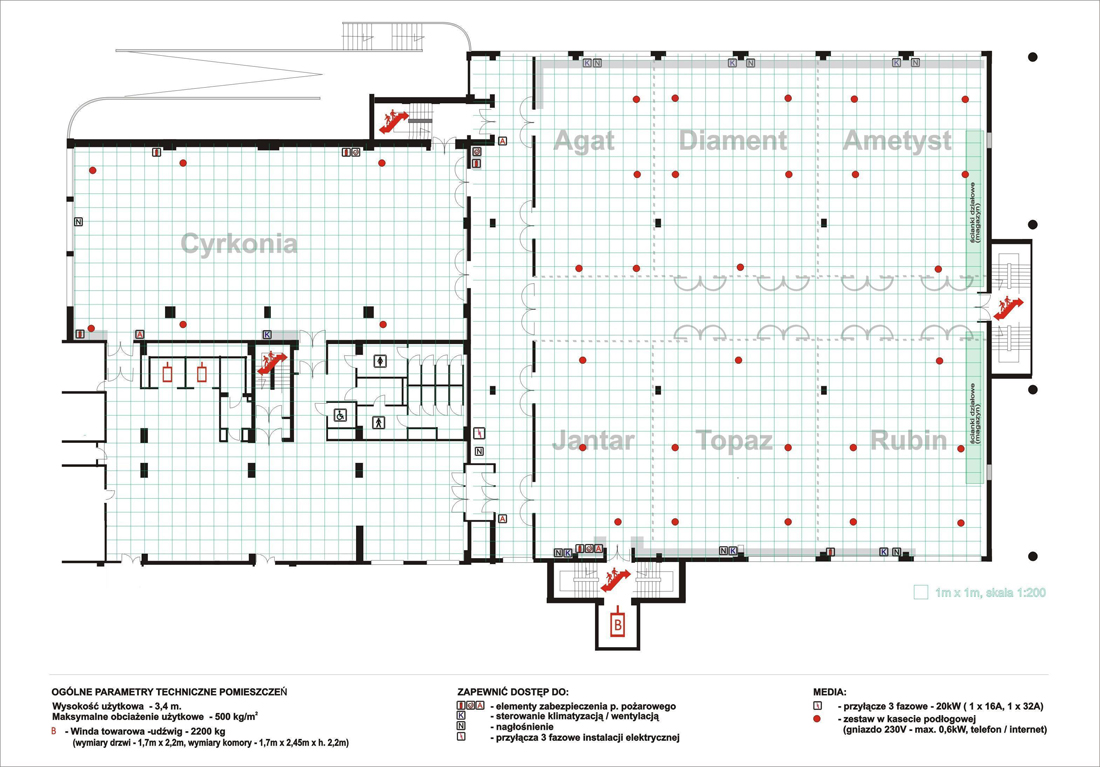 Cyrkonia

pow. m2.: 405
wys. m : 3,6
wymiary dł x szer.: 14,1x28,6

Agat

pow. m2.: 135
wys. m : 3,6
wymiary dł x szer.: 15,6x8,5

Jantar

pow. m2.: 135
wys. m : 3,6
wymiary dł x szer.: 15,6x8,5

Ametyst

pow. m2.: 185
wys. m : 3,6
wymiary dł x szer.: 15,6x12,1

Diament

pow. m2.: 185
wys. m : 3,6
wymiary dł x szer.: 15,6x12,1

Topaz

pow. m2.: 185
wys. m : 3,6
wymiary dł x szer.: 15,6x12,1

Rubin

pow. m2.: 185
wys. m : 3,6
wymiary dł x szer.: 15,6x12,1
LEVEL "0''
| | | | | | | | | | |
| --- | --- | --- | --- | --- | --- | --- | --- | --- | --- |
| Room name | area m2 | height m | dimensions length x width | | | | | | |
| Opal | 190 | 3,6 | 15,7x11,9 | 180 | 64 | 40 | 160 | 100 | 140 |
| Turkus | 190 | 3,6 | 15,7x11,9 | 180 | 64 | 40 | 160 | 100 | 140 |
| Koral | 280 | 3,6 | 15,7x17,8 | 250 | 132 | 60 | 184 | 120 | 160 |
| Granat | 280 | 3,6 | 15,7x17,8 | 250 | 132 | 60 | 184 | 120 | 160 |
| Kryształ | 405 | 3,6 | 14,1x28,6 | 400 | 180 | 86 | 288 | 200 | 250 |
| LEVEL ,,0''z Kryształ | 1750 | 3,6 | | 1600 | 600 | 300 | 1000 | 650 | 900 |
| LEVEL ,,0'' bez Kryształ | 1345 | 3,6 | 36,0x37,4 | 1200 | 420 | 215 | 715 | 450 | 650 |
| Business Room | 20 | 3 | | 20 | 14 | | | | |
| Conference Suite | 96 | 3 | | 20 | 12 | | | | |
| Business Room | 40 | 3 | | 40 | 25 | 20 | | | |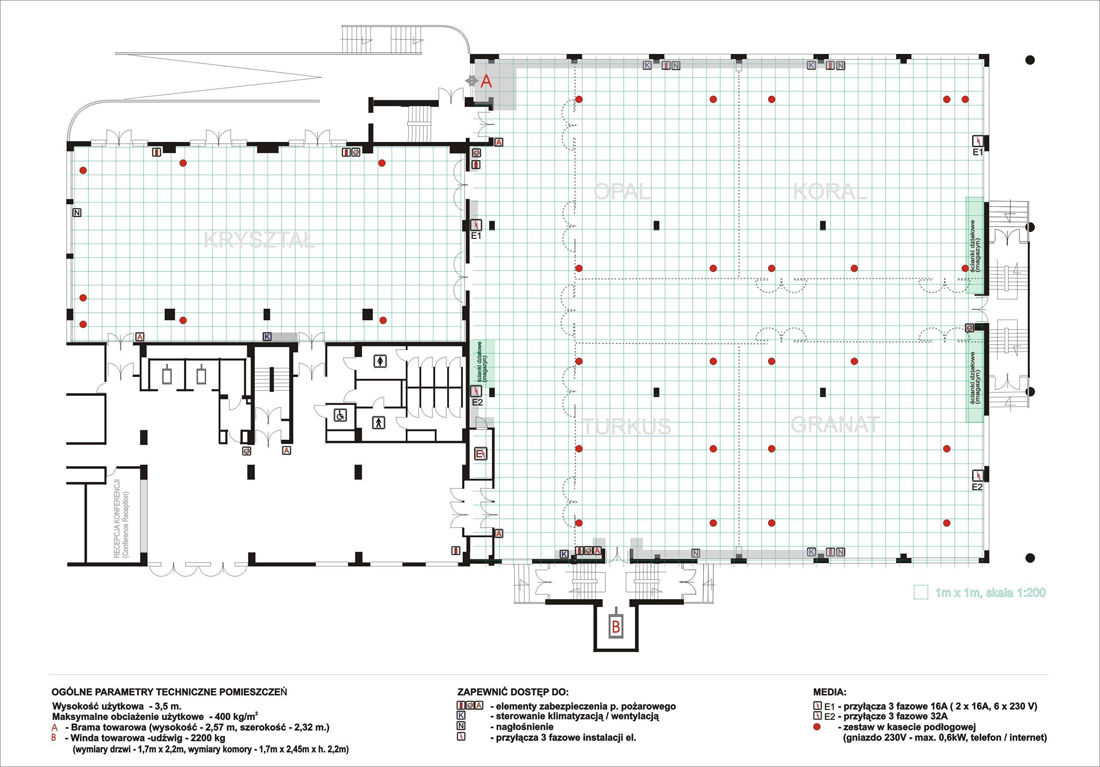 Opal

pow. m2.: 190
wys. m : 3,6
wymiary dł x szer.: 15,7x11,9

Turkus

pow. m2.: 190
wys. m : 3,6
wymiary dł x szer.: 15,7x11,9

Koral

pow. m2.: 280
wys. m : 3,6
wymiary dł x szer.: 15,7x17,8

Granat

pow. m2.: 280
wys. m : 3,6
wymiary dł x szer.: 15,7x17,8

Kryształ

pow. m2.: 405
wys. m : 3,6
wymiary dł x szer.: 14,1x28,6
LEVEL ,,+1''
Room name
area m2
height m
dimensions length x width
LEVEL ,,+1''
Szmaragd
280
4,5
15,6x17,8
230
120
70
130
100
140
Szafir
240
4,5
15,6x17,8
230
120
70
130
100
140
Onyx
1296
4,5
36,0x36,0
1300
600
600
400
600
Perła
2250
4,5
36,0x36,0
2500
1500
1000
1500
Szafir+Szmaragd z korytarzem
896
4,5
36,0x25,0
870
360
115
400
300
400
Szafir+Szmaragd (połączone)
596
4,5
36,0x17,8
580
210
100
320
240
300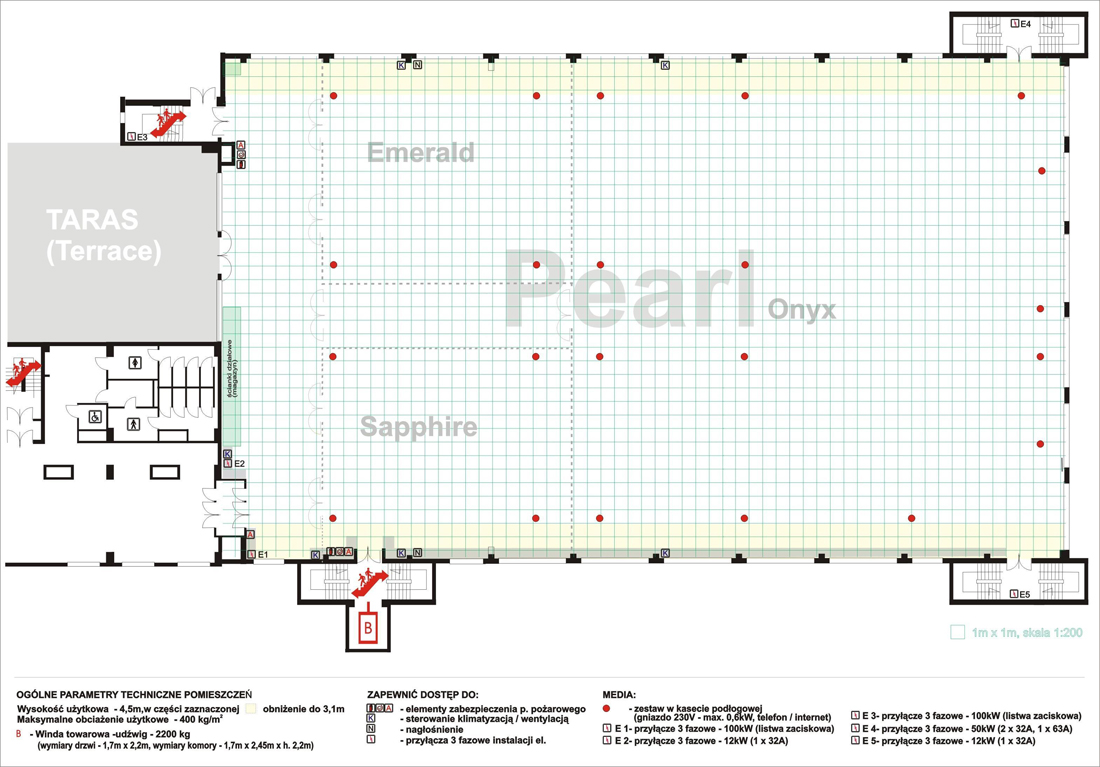 Szmaragd

pow. m2.: 280
wys. m : 4,5
wymiary dł x szer.: 15,6x17,8

Szafir

pow. m2.: 190
wys. m : 3,6
wymiary dł x szer.: 15,7x11,9

Onyx

pow. m2.: 280
wys. m : 3,6
wymiary dł x szer.: 15,7x17,8

Perła

pow. m2.: 280
wys. m : 3,6
wymiary dł x szer.: 15,7x17,8
OTHERS
Room name
area m2
height m
dimensions length x width
Exhibition space
Price quoted per m2; the price applies to the corridor before the entrance to each Conference Level
Conference reception
20
3,6
6
Cell 9